Welcome to FlyBy E6B

for iPad™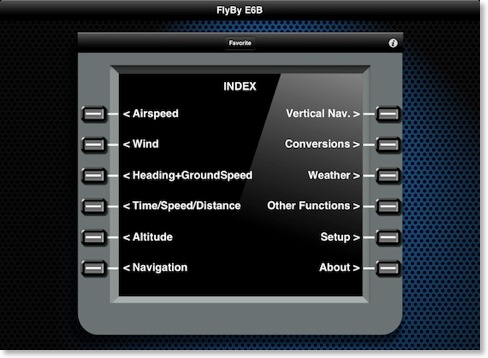 iPhone®, and iPod touch®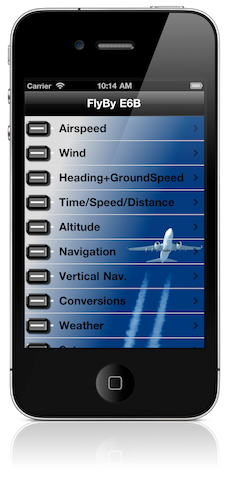 FlyBy E6B is an essential application for all pilots. Designed by a professional airline pilot it includes many features not found in other E6B programs.
Originally published in 1999, this version conforms to the iPhone interface but retains the familiar look, feel and format of the original FlyBy E6B. If you used FlyBy E6B before, then you should feel right at home with the iOS version. We have faithfully reproduced the menu order and input/output screens.

What's new for iOS:
Apple's iOS brings with it connectivity and processing power that was not available to the Palm OS devices that FlyBy E6B was originally written for.
- FlyBy E6B now includes a weather page that will display the current METAR/TAF/Decoded weather for an ICAO reporting station, downloaded directly from the NOAA weather service.
- The Track and Distance Navigation module now includes a Great Circle track plotting feature that will display your route on a map. The Map view allows you to drag and drop the departure and destination pins anywhere on the map. The Map view also includes basic GPS data: Speed, True Track, Altitude, Distance Remaining, Track to Destination, Cross Track Error, ETE and ETA. (Only available on iOS devices that have GPS receivers or connected to Bluetooth GPS devices like the Bad Elf Pro GPS.)
- All functions now include an offline help page that can be accessed by pressing the small "i" button.
- Large easy to read screen fonts.
- Familiar FMC like user interface (iPad).
- Custom colour menu and function backgrounds (iPhone).
- New favourite menu: With over 60 functions to use we recognize that you may only need two or three on a regular basis. Instead of navigating the function menus to find your function simply create your own list of most used functions!

Always improving:
FlyBy E6B was one of the very first applications of its kind published for the Palm OS. Used by thousands of pilots the world over, it has evolved from the suggestions and feedback we have received. This is an "active" application. Before you purchase any App always check the developers web site and customer support. We will respond to ALL support emails! Drop us a line. We would love to hear from you.

From True Airspeed, to Point of No Return calculations, FlyBy E6B does it all.

Fast and easy to use, FlyBy E6B is consistent with the simple SkyWriter Software style you have come to expect.
All input and calculated values are retained after exiting the program. Calculated values are also automatically transferred from one function to the next.



FlyBy E6B Features:



Airspeed Calculations:

True Airspeed using Calibrated Airspeed

True Airspeed using Mach#

Calibrated Airspeed using True Airspeed

Indicated Airspeed using Mach#

Equivalent Airspeed using Mach#

Mach# using True Airspeed

Mach Crossover Altitude

Planned MACH#

Planned TAS

Vref CAS

Wind Calculation:
Find Wind Direction and Speed

Find Wind Component (headwind, crosswind and minimum RFI (Runway Friction Index))

Heading and Ground Speed:
Find Heading, Ground Speed, ETE and Fuel Burned

Time-Speed-Distance:
Find Estimated Time Enroute

Find Ground Speed

Find Distance

Find Fuel Time

Find Fuel Flow

Find Fuel Burned

Find Estimated Time of Arrival and Logbook Time

Journey Log Time

Time Adder

Fixed GroundSpeed

Altitude Calculations:
Density Altitude

Pressure Altitude

True Altitude

Cold Weather Altitude Temperature Correction

China RVSM Airspace

Navigation Calculations:
Critical Point

Equal Time Point

Point of No Return

Time to Minimum Descent Altitude

Track and Distance between two points with Google Map great circle plotting.

GPS mode displays Speed, Track, Altitude, Distance Remaining, Track to Destination, Estimated time Enroute, ETA and cross track error.

Fix. Define a map location using a fix, radial and distance.

Radius of Turn

Turning Stall Speed

DME Arc
Vertical Navigation Calculations:
Distance and Time using Altitude Change, Ground Speed, Vertical Speed

Rate of Descent using Altitude Change, Ground Speed, Distance

Rate of Descent using Altitude Change, Ground Speed, Descent Angle

Feet/Nm using Vertical Speed, Ground Speed

Feet/Nm (%) using Gradient %, Ground Speed

Rate of Climb using Required Climb Gradient and Ground Speed

SCDA (Stabilized Constant Descent Angle)

VDP (Visual Descent Point or Planned Descent Point)

VPA (Vertical Path Angle) Deviation

Conversions:
Distance:
Nautical Miles/ Knots : Statute Miles/ Mph : Kilometers/ Kph : Feet:Meters : Meters/Second : Feet/Second : Feet/Min
Volume:
US Gallons : Imperial Gallons : Litres
Temperature:
Weight:
Altimeter:
Inches Hg : Millibars/Hectopascals : mmHg
Fuel, Temperature Corrected, JetA, JetB, AvGas:
US Gallons : Imperial Gallons : Litres : Pounds : Kilograms
QFE:

DMS:

D-M-S : D-M.m : DM.m : D.d
VNAV:

Gradient(%) : Feet per NM : Angle

Weather:
Relative Humidity, Heat Index, CU cloud base, Wind Chill

NOAA METAR/TAF/Decoded weather access

ISA Temperature Deviation

Other Functions:
Linear Interpolation

Min. Floor Load Limit

Max. Cargo Weight

Runway Slope

PAX Weight

C.G. Change

Weight to Shift

Distance to Shift

Sunrise/Sunset

Setup:
Select program units: Temperature, Altimeter, Speed and Altitude.

Input Airspeed Recovery Coefficient (Ct).
Apple, the Apple logo, iPhone, iPod touch, and iTunes are trademarks of Apple Inc., registered in the U.S. and other countries. iPad is a trademark of Apple Inc. App Store is a service mark of Apple Inc.