For screen shots and detailed function descriptions please select from the menu above.
Functions now include additional help pages that you can access by pressing the small "i" button.

Main Screen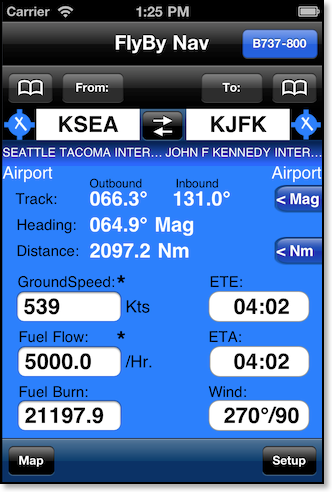 When you start FlyBy Nav you should see the screen shown.


Settings


The Setup feature enables you to select the waypoint data file you would like to use. Either the entire U.S.A. supplied by the NFDC (National Flight Data Centre) or the World supplied by "OurAirports.com". The program will operate faster using the smaller U.S. file. We recommend using that file unless you are outside of the U.S.A.

Reporting Errors/bugs

In the event that you find and error in the FlyBy Nav program, please email a detailed explanation to:
support@skywritersoft.com

Please write "FlyBy Nav for iPhone Error" in the subject line and include as much information as you can about the problem. A screen shot of the problem would also help.

Known Issues/bugs v1.2

- None.