Airspeed


There are eight different airspeed calculations available:

TAS Using CAS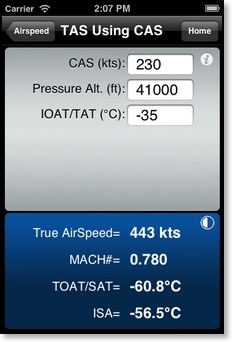 Calculates True Airspeed using Calibrated Airspeed (CAS). Outputs will be True Airspeed, Mach#, TOAT (True Outside Air Temperature) and ISA temperature for that altitude. The displayed Mach# is calculated using pressure altitude and standard (ISA) temperature at the altitude rather than the calculated TOAT.


TAS Using MACH#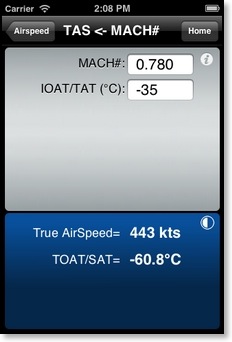 Calculates True Airspeed (TAS) using MACH#. Inputs are Mach# and Indicated Outside Air Temperature (IOAT). The outputs are TAS and TOAT.


CAS Using TAS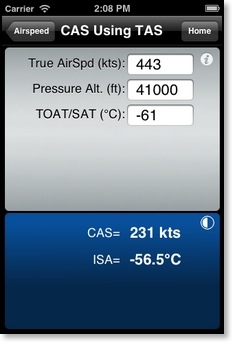 Calculates Calibrated Airspeed. Inputs are TAS, Pressure Altitude and Temperature. Outputs are CAS and ISA for that altitude.


IAS Using MACH#
Calculates Indicated Airspeed. Inputs are MACH# and Pressure Altitude. Outputs are Indicated AirSpeed and ISA temperature for that altitude.

EAS Using CAS

Calculates Equivalent Airspeed. Inputs are CAS and Pressure Altitude. EAS is CAS corrected for compressibility.


MACH# Using TAS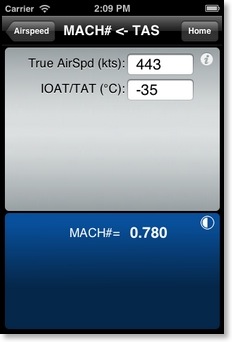 Calculates Mach number. Inputs are TAS and indicated outside air temperature.

MACH Crossover Altitude: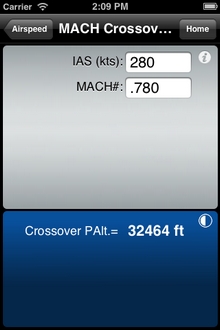 Calculates the pressure altitude (PAlt) where indicated airspeed will equal a Mach number.


Vref CAS:



Calculates approach speed. Only used if speed is NOT provided in your POH/AFM. Function uses calibrated airspeed. This is the airspeed to use when you are 50' over the 'fence' on a short field landing. Always convert to indicated airspeed using your POH/AFM.