Welcome to FlyBy Nav

for iPhone®, iPod touch®, and iPad™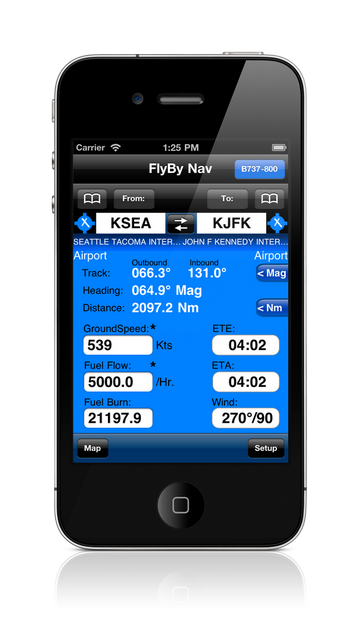 Flight planning is as easy as tapping in your point of departure, arrival and winds!
In one screen, FlyBy Nav displays track, heading, distance, ground speed, time enroute, ETA, and fuel burn.

- Fast database search and lookup of waypoints.
- Search function lets you search for an airport using its identifier, name or city name.
- Stores your favorite aircraft cruise performance numbers.
- Quick Charter Quote feature, $/Sm or $/Hour.
- Sunrise/Sunset and Azimuth feature.
- METAR and TAF weather access.
- 55,000 Airports and Navaids included (offline).
- Save your own user waypoints.
- No subscription charges.

Originally published in 1999, this version conforms to the iPhone interface but retains the familiar look, feel and format of the original FlyBy Nav. If you used FlyBy Nav before, then you should feel right at home with the iOS version. We have faithfully reproduced the menu order and input/output screens.

What's new for iOS:
-Huge waypoint data file.
-Map feature that will display your route on a Google Map.
-Search waypoint function now lets you search for waypoints and view their location immediately on a map.
-Font "zoom" feature for easy reading of waypoint information.
-Waypoint information now includes frequency's.
-Quick METAR and TAF weather access for departure and arrival airports.


Watch review on YouTube:




Note: FlyBy Nav is a single leg, great circle, flight planning aid. The aircraft performance data does not include taxi, climb or descent data. The waypoint data file contains public domain user generated data and may contain errors.


Apple, the Apple logo, iPhone, iPod touch, and iTunes are trademarks of Apple Inc., registered in the U.S. and other countries. iPad is a trademark of Apple Inc. App Store is a service mark of Apple Inc.