© 2000-2010 SkyWriter Software
Flight Planning Software For Palm OS® Handhelds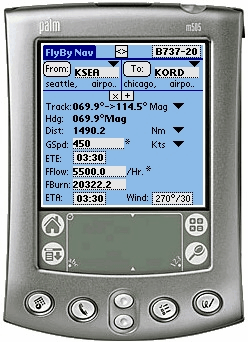 Flight planning is now as easy as tapping in your point of departure, arrival and winds!
In one screen, FlyBy Nav displays track, heading, distance, ground speed, time enroute, ETA, and fuel burn.
Nearly all public airports and navigation aids in the U.S. are stored in its database - so FlyBy Nav knows where you're going.
A virtually unlimited customizable waypoint database. (The only limitation is your Palm's available memory.)
Lightning fast database search and lookup of waypoints. The search function lets you search for an airport using its city name or identifier.
Single screen flight planning. Displays all the trips information in one screen.
Familiar user interface using standard Palm program features. So if you already know how to use the Palm's built in applications you will know how to use FlyBy Nav.
Stores up to 30 of your favorite aircraft cruise performance numbers.
Quick Charter Quote feature.
Sunrise/Sunset and Azimuth feature.
Place/Bearing/Distance and Track Plotting functions.
When you purchase the program you will be asked for your PUN or Palm ID. This is the name that is displayed when you run the "HotSync®" program on your palm. You must supply the name exactly as it appears. The registration code you receive is generated from the user name and is case sensitive.

Alternatively you may select the "Reg.Key" menu item from within the FlyBy Nav program and it will display your Palm User name.

You may download FlyBy Nav from this site for a free 30 day trial. If you wish to purchase it, place your order at Handango.

Please read the Users Manual before installing.

Program files:

FlyByNav2-15.exe (1299 KB). Self Extracting and installing. Contains program files, US "Public use" and some Canadian airports.
If you are not able to unzip the FlyByNav.zip file this EXE file will do it automatically for you.
Running the "FlyByInst" file on your Palm will expand the program and data files. Requires 4,300 KB of free Palm memory.

FlyByNavInstall.prc Download directly to your Palm OS device.


Latest Version Only:
FlyByNav2-15.zip (67 KB). Latest version of FlyBy Nav PRC, updated file.
This file should only be used if you are upgrading from an older version.
You must have already installed all of the files in FlyByNav.zip before using this updated file.

Older Version:
For Palm OS v3.0 and earlier please use FlyBy Nav version 1.8.
FlyByNav1-8P.zip

FlyBy Nav Data Files (Effective 17 Dec. 2009)



---

Page updated 21 Oct. 2010
---
PalmPilot, Palm III and the PalmPilot logo are trademarks of Palm, Inc. All other trademarks are the property of their owners.SkyWriter Software will accept no responsibility for the use or misuse of any software, for any damage that may be caused by them or their possible lack of suitability. Palm, Inc. in no way endorses or is affiliated with SkyWriter Software. No portion of the SkyWriter website, including but not limited to the HTML code, may be copied or redistributed in any manner without the express written consent of the copyright owner.
---